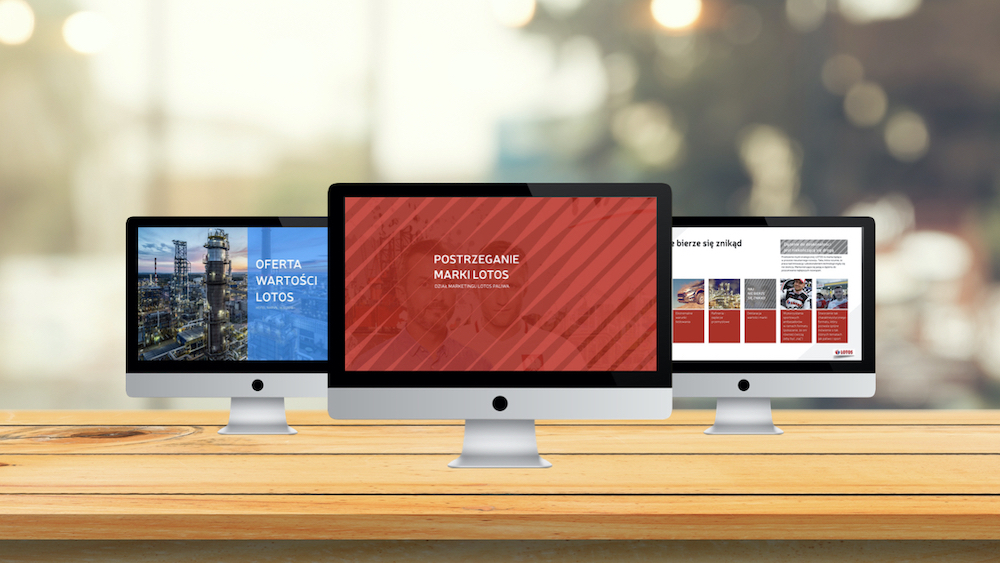 Multimedia presentations
Everyone can prepare a presentation containing thousands of bullet points and charts. But today this is not enough. To attract the recipients' interest, the message must have a modern form and an appropriate setting. Thanks to our professional support, our clients gain a new quality, while saving time and energy that would otherwise be needed to complete labor-intensive graphic works.
Every year, Lotos Paliwa organizes a full-day conference for its partners from all over Poland. The main communication tool is a presentation that contains over 200 slides and is divided into more than a dozen chapters. Managers from various departments of the company are the authors of individual sections. In 2018, we were entrusted with preparing a modern template, combining all parts into a substantively and visually coherent whole, as well as selecting photographs and graphics to match. Due to the extensive content and the usage of special animations, we were also responsible for displaying the presentations during the conference. Our work was appreciated, and in 2019 we were invited to cooperate again.
Along with preparing the graphic layout, we also offer advice on drafting substantive content, and text editing and guarantee to deliver the presentation on time to our clients. In recent years, we have made image and sales presentations for, among others Lotos Paliwa, Prudential Polska, Novo Nordisk, and Dom Development.
Client:

Lotos Paliwa

Services:

Graphic design

Text editing

Photo editing